Here's a sample of our guest post at The Candy Dish blog! 
Need a quick and inexpensive idea for a Halloween costume? Your friends will think you are a REAL "Smartie-Pants" when you show up to the party in this! Just remember to bring extra Smarties to ward off those who will attempt to swipe them right off of your pants!
What you will need to pull off this crafty costume:
One pair of pants to glue (use an old pair you don't mind sacrificing for the outfit!)
One shirt & tie
One nerdy pair of glasses
One small piece of white paper and clear tape OR first aid tape (white tape)
Glue gun & glue sticks
1 bag of Smarties Candy (small bag for child costume/ larger bag for adults)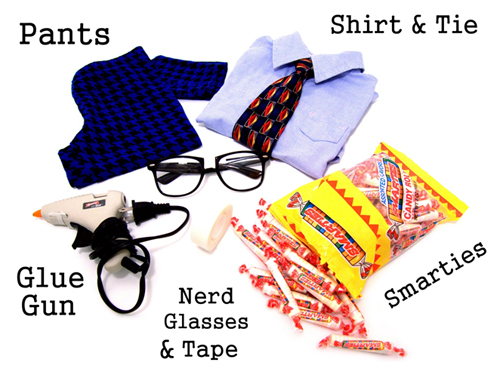 Continue reading and find step by step instructions at The Candy Dish blog.