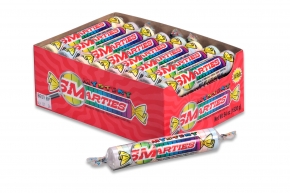 Dear Friend of Smarties,
We are pleased and proud to announce the launch of a NEW Smarties product:  Mystery Smarties!  It took over a year of brainstorming, designing and tasting (the hardest part ;)), but we emerged victorious and ready to share this fun product with you!
So, what is it?  Mystery Smarties are mega sized and mega mysterious.  The colors do not match the flavors, and the flavors range from our Original to Tropical to X-Treme Sour varieties.  In short, this product will keep you guessing… and coming back for more!
We hope you love it as much as we loved developing it!
Sweet Wishes,
The Smarties Family