We received this letter in the mail today…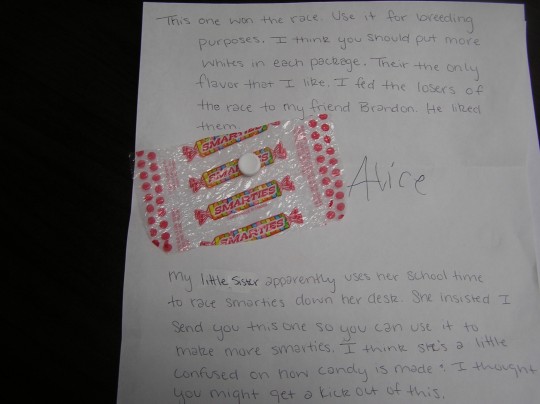 Thank you, Alice, for your feedback and for helping us "breed" Smarties (lol), and thanks to her sister for writing Alice's message and sending us this package!  She was right.  We did get a kick out of this…
Have we mentioned that we love hearing from you?  Well, we do.  Thank you for your letters, emails, recommendations, messages, shares and tweets.  You rock.
With gratitude,
The Smarties Family
PS:  Letter Transcription:
This one won the race.  Use it for breeding purposes.  I think you should put more whites in each package.  They're [sic] the only flavor that I like.  I fed the losers of the race to my friend Brandon.  He liked them.  –  Alice
My little sister apparently uses her school time to race Smarties down her desk.  She insisted I send you this one so you can use it to make more Smarties.  I think she's a little confused on how candy is made & I thought you might get a kick out of this.