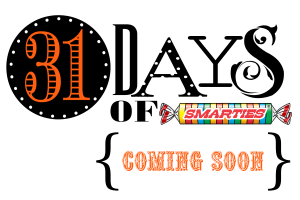 We are counting down to Halloween with a giveaway 🙂  Win your treats from Smarties!
On each of the 31 days of October, we will post a reason why we think Smarties are the smart choice for Halloween & for each of the 31 days of October, we will give away a bag of Smarties AND a Smarties Theater Box!
That's 31 Smarties prizes for 31 days of Smarties!!! You can enter to win one of 31 prizes in 2 ways:
1)  Like Smarties on Facebook and post a comment, photo with caption or video on our wall about why Smarties are YOUR smart choice for Halloween.  An entry comment, caption or video may have a message like this: "Smarties are my smart choice for Halloween because…"
2) Follow @Smarties on Twitter and tweet why Smarties are your smart choice for Halloween with the hash tag #SmartHalloween and mention @Smarties.  An entry tweet may look like this: "Having a #SmartHalloween with @Smarties because…"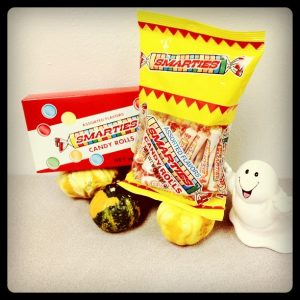 Entries will be accepted from October 1st to October 31st at 11am EST.  The 31 winners will be announced on Halloween (Monday, October 31st) at noon!
Up to three entries per person, per day.  Entries will be judged for fun-factor, creativity and Smartie-ness.  Winners must provide a mailing address within the USA.  Good luck!!!
– The Smarties Family