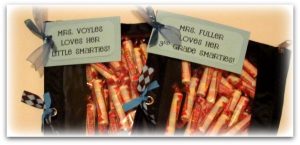 Back to school already? You might want to think about teacher's gifts…
Stephanie from SomewhatSimple.com came up with this (fast and easy) DIY "Back-to-School 'Little Smarties' Teacher's Gift" that we love!  Click here for instruction how to make it.
Is this something you would make yourself?
Do you have good Back-to-School ideas for Smarties?  Share them with us as a comment below!