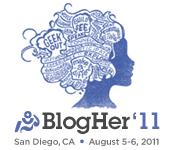 BlogHer was awesome.  End of story.
Wait, you want to know more?  Then read on, friends…
This past BlogHer was August 4-6 in beautiful San Diego, California.  As explained on the BlogHer website, BlogHer '11 hosted "over three thousand attendees together from all over the world to share hands-on learning, rich discussions, opportunities to meet with the brands that support them and plentiful networking opportunities."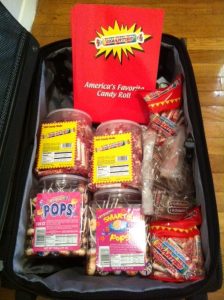 I went to BlogHer with a suitcase full of candy (literally), more business cards than I ever thought I would need, and a naive hope to meet and befriend every blogger in attendance.   Seriously, what brand representative doesn't want to get to know thousands of talented, motivated, creative blogging women?  Well, I did not meet thousands.  Hundreds?  Probably.  And I actually ran out of business cards…
I went to meet these fantastic people as an "official" representative of my family's candy business.  Aside from being the Director of Digital Media, I'm a third generation co-owner of Smarties Candy Company and a fifth generation candy maker with a serious sweet tooth.  Candy is in my blood, literally and figuratively.  If you follow my @Smarties tweets, then you know all about this (and you also get the play-by-play of what's going on at Smarties HQ).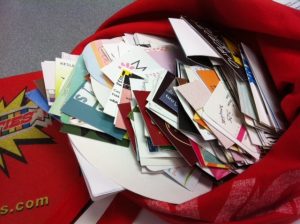 Because (for me) BlogHer is all about the Bloggers, in my next post, I will write about some of the amazing people I met at BlogHer.  I have a bag of business cards on my desk (see picture to the right) and, frankly, it scares me that I have that many follow ups to write.  But, follow up I must!  It's the Smarties way.
Your dedicated Smarties blogger,
Liz
PS-  You can see many more photos of Smarties at BlogHer on our Facebook Page.