We have really enjoyed getting creative with Smarties.  Smarties tablets are excellent for combining to make larger images- the ultimate pointillism.  Who doesn't love edible art?!
For this past Memorial Day, we made a Smarties American flag.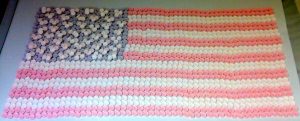 It took a couple of days to complete this masterpiece.  It contains 1,502 Smarties tablets which would make about 101 of our 15-tablet Smarties rolls!
We are always taking requests for future works so please do write your comments below.  We love hearing from you!
Sweet wishes,
The Smarties Family