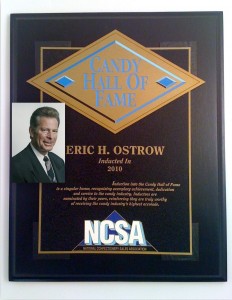 We'd like to take a moment (aka a blog post) to congratulate our Vice President of Sales and Marketing, Eric Ostrow, for his induction into the NCSA Candy Hall of Fame!  (We know what you're thinking, and yes, there is a Candy Hall of Fame.)
This award was presented by Eric's peers in recognition of his long and valuable contribution to candy.  Eric has been with Smarties, alone, for 31 years!
Eric, thanks for sticking around to watch us grow up and HUGE congrats!
– The Smarties Family